WELCOME TO THE KITTIES WEBSITE.
PLEASE SCROLL DOWN TO ENJOY THIS PAGE IN ITS ENTIRETY.
THE KITTIES WEBSITE HAS OVER 30 PAGES OF VITAL INFORMATION ABOUT OUR MISSION.
CLICK THE THREE LINES ABOVE TO BRING DOWN THE DROP DOWN MENU FOR ALL THE PAGES.
View Over 40,000 Photos of The Kitties & Hundreds of Videos
Hanging With The Kitties

Since 2009, Puffy Paws is the first rescue in the area that features adoptable and special needs kitties LIVE on the Internet.
"Hanging With The Kitties "
Every Sunday
Showtime: 10:30pm - 11:00pm on FB Live.
Starring those lovable kooky adoptable & Special Needs Kitties at Englewood, Florida's "World's Greatest Cathouse", Puffy Paws Kitty Haven.
Hosted by Rick "The Catman" Kingston.
Join Rick & The Kitties every Sunday on Facebook Live.
Check out the Archive Shows on the kitties Facebook Page.
Please call Rick at 941 623 -8904 to set up a play date with the adoptable kitty of your dreams you've seen in the live shows.
All play dates will be held at The Business Center in
The Catmobile, in the evenings.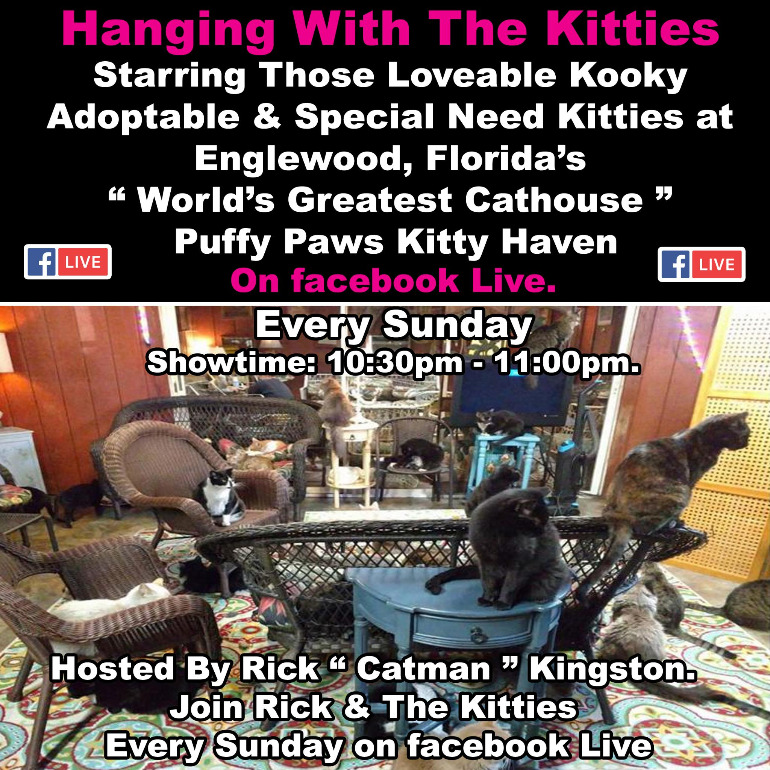 Puffy Paws Kitty Haven is the only local rescue that posts their operating expenses online when they are paid. The Cat Food Bills, Vet Bills, Power Bills and The Business Center Rent, Daily supplies, etc...

We post them online and you can see years of them by clicking the picture.
on the left.
We also send them out to the kitties world wide family via our SOS's and updates, that we send out each week.
The kitty lovers of the world deserve to see where their hard earned donations go.