WELCOME TO THE KITTIES WEBSITE.
PLEASE SCROLL DOWN TO ENJOY THIS PAGE IN ITS ENTIRETY.
THE KITTIES WEBSITE HAS OVER 30 PAGES OF VITAL INFORMATION ABOUT OUR MISSION
CLICK THE THREE LINES OR MORE ABOVE TO BRING DOWN THE DROP DOWN MENU FOR ALL THE PAGES.
.

CLICK THE THREE LINES ABOVE TO BRING DOWN THE DROP DOWN MENU FOR ALL THE PAGES.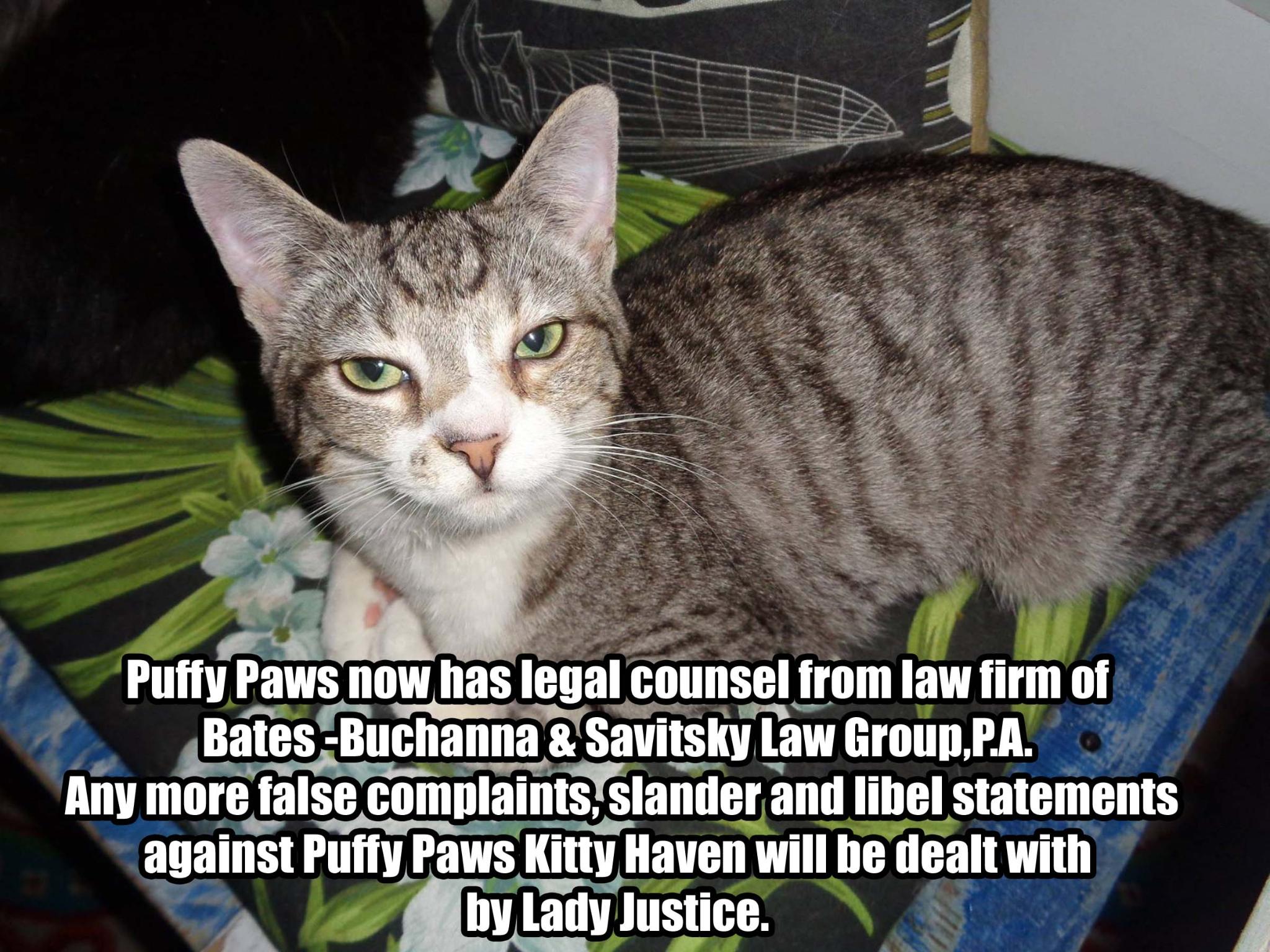 Inspected By Animal Control

2018
Just The Facts

The 2018 Voluntary Animal Control Inspection is over.
The doors are still open, and the kitties are fat, spoiled, and happy.

Our lawyer has advised us to state that:
"No changes are required."

We could not take any pictures of the Officers, or quote anything positive about Puffy Paws that came out of the Officer's mouths.

Due to the fact that we were told, "Sarasota County Animal Control cannot endorse Puffy Paws Kitty Haven," we have to be very careful in how we describe the outcome of the 2018 inspection.

After the 2015 Inspection, we were told to take down all pictures of the Officer, and all of the nice comments she made, which I quoted and posted to the kitties website and Facebook page..

On July 12th, 2018, two deputies came out:
Office Robinson and Officer Pittman.
They were at Puffy Paws for an hour and a half.

We gave Animal Control a binder which contains all of Puffy Paws financial information, vet records, FPL power bill records, and cat food records from
January 2017 to July 9th, 2018.

Animal Control now has three and half years worth of our records.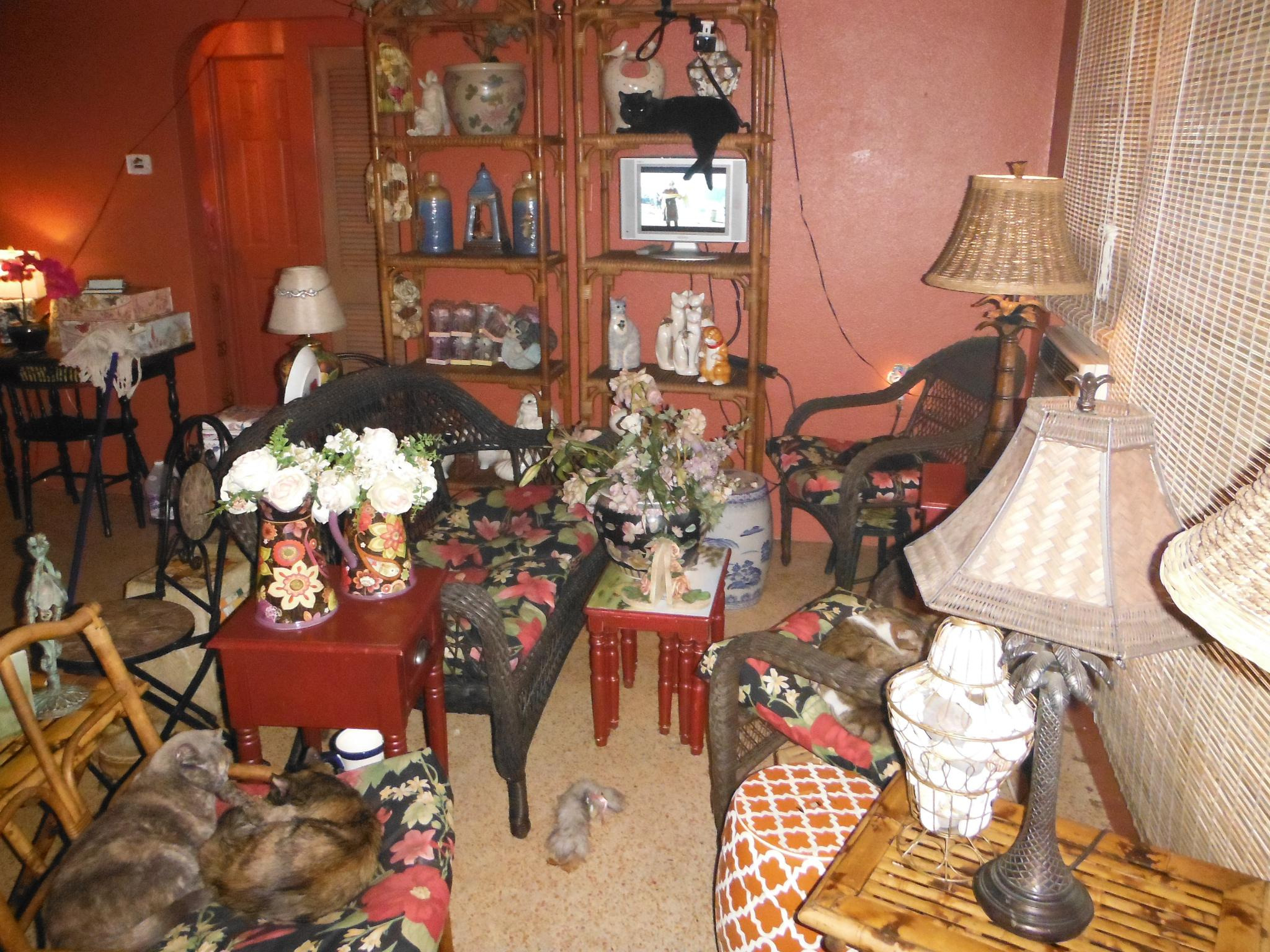 INSPECTED BY ANIMAL CONTROL
2015, 2016, and 2018

DISCLAIMER
The following is not an endorsement for Puffy Paws Kitty Haven by Sarasota County Animal Control.
It is, however, the truth and facts as they happened each year.

BACKGROUND INFORMATION.

In 2015 and 2016, Animal Control responded to two false complaints. They came out and inspected us, which we passed both years with flying colors.

Sarasota County Animal Control came out to do a voluntary inspection, on Thursday July 12th at 3pm, of Puffy Paws Kitty Haven.

After the 2016 inspection, we thought it would be a good idea for Animal Control to come out every year, to do a voluntary yearly inspection.

In 2017, we skipped the inspection because of Hurricane Irma, which brings us to the present.

We were ready as usual for the 2018 Inspection.
The Haven had a new coat of paint and the kitties are fat, spoiled, and happy.

The kitties lawyer was present, just like all previous inspections.

Animal Control now has all of our vet records and financial information.

From January - August 2015
From January - August 2016
From January 2017 - December 2017
From January 2018 up till the week of July 9th , 2018 .

Animal control now has almost three and half years of the vet records and financial information.

We do not know of any rescues locally that are so transparent with their supporters and donors, and with Animal Control as Puffy Paws is.

So let the haters hate, the naysayers and trolls cry, as no changes were required after the 2018 Animal Control Inspection .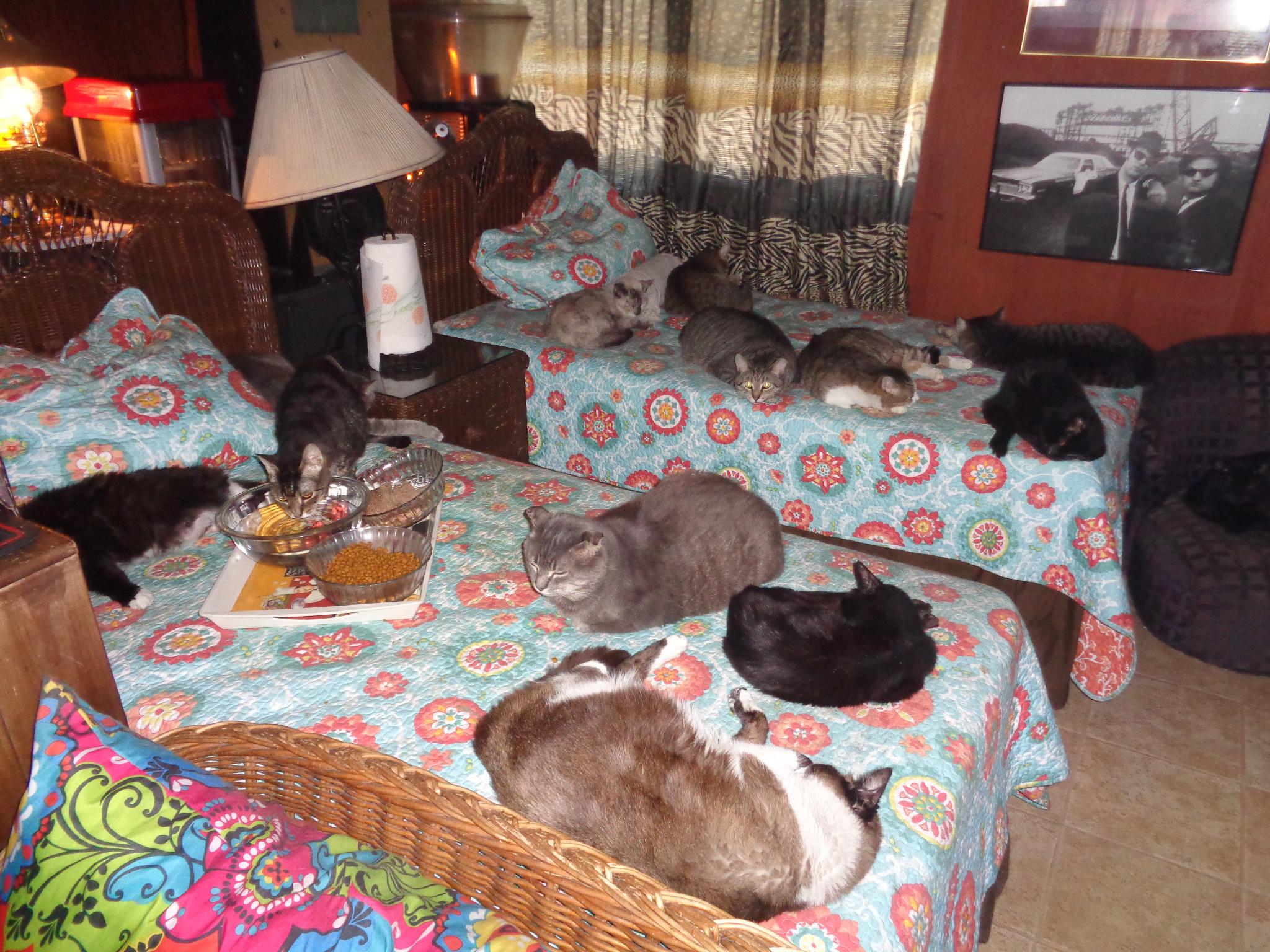 THE HATE NEVER LEAVES. SARASOTA COUNTY ANIMAL CONTROL INSPECTION :
AUGUST 2015
OFFICIAL REPORT FROM 2015

Sarasota County Sheriff's Office Division of Animal Services Section Report on Puffy Paws Kitty Haven .M15-176839
08/11/15 1644HRS I RESPONDED TO MEET WITH OWNERS OF "PUFFY PAWS KITTY HAVEN"RICK AND CHRISTINE KINGSTON. THE KINGSTON'S ATTORNEY, DAWN BUCHANAN, AND AMANDA FROM LOVING CARE A/H WERE ALSO PRESENT. RICK PRESENTED A BINDER FOR ANIMAL SERVICES TO KEEP ON FILE, SHOULD ANY FUTURE COMPLAINTS BE MADE. THE BINDER CONTAINS ALL FINANCIAL AND MEDICAL INFORMATION RECORDS, AS WELL AS ADDITIONAL INFORMATION PERTAINING TO THE RESCUE.

THE KINGSTONS ALLOWED ME INTO ALL AREAS OF THE PROPERTY. THE ENTIRE RESIDENCE IS CLEAN AND FREE OF ANY FOUL ODORS. CATS HAVE ADEQUATE ACCESS TO FRESH FOOD,WATER, AND CLEAN LITTER. FOOD IS STORED IN A CLEAN, DRY AREA TO
PREVENT INFESTATIONS. THE KINGSTONS HAVE A 200 CAT CAPACITY IN THEIR APPROXIMATELY 3,500 SQ FT RESIDENCE. CATS ARE SEPARATED IN VARIOUS ROOMS ACCORDING TO THEIR NEEDS INCLUDING, BUT NOT LIMITED TO: AN ISOLATION ROOM FOR ILL CATS, FELINE LEUKEMIA,AND A GENERAL POPULATION (ADOPTABLE) AREA.

ALL CATS WITH HEALTH CONCERNS ARE UNDER VET CARE. NO CATS WERE OBSERVED IN DEPLORABLE CONDITION AS ORIGINAL COMPLAINT STATED AND NEGLIGENCE COMPLAINT IS UNFOUNDED. RICK ADVISED THEY ARE A COMMON SENSE NO-KILL SHELTER, EUTHANIZING AS NEEDED UPON THE RECOMMENDATION OF LOVING CARE A/H STAFF. NO FURTHER ACTION NEEDED. LC2732

THE HATE NEVER LEAVES
SARASOTA COUNTY ANIMAL CONTROL INSPECTION
SUMMARY

In the summer of 2015, we took lemons and made lemonade.

We passed Sarasota County Animal Control Inspection with flying colors.

Whoever filed the false compliant with Animal Control was hoping for a disastrous outcome.

Just like Wile E. Coyote dreams of blowing up the Road Runner with his Acme dynamite.

This hateful person's plan backfired and blew up in their face.

" Officer Campbell was very professional, it was a real pleasure. This town has tried to beat us down for years to no avail, not caring about these cats at all.
Always spreading lies and slander, this was a blessing to have an inspection so that they can finally shut their mouths, but I doubt that! "
Chrissy Kingston
Co-Founder: Puffy Paws Kitty Haven

We live life to the fullest here at Puffy Paws.

We improvise, adapt, and overcome any situation that is thrown at us.

Chrissy and I are free of fear of resentment from the evil people.

These people call Animal Control when that hate comes up from their soul, because they hate life and the work we do with small helpless special need kitties.

They wanted to destroy us, but they made us stronger.
With the Sarasota County Animal Control Inspection over, they have taken Puffy Paws to the next level.

Their hateful phone call that ended up with nothing but a positive and remarkable report from Sarasota County Animal Control will help the kitties because the kitty lovers of the world, who might have been on the fence of our endeavors, now have concrete proof that what everyone else is saying is true.

What the haters never will realize is:
Love Trumps Hate - Mad Kitty Love Trumps All.

Because of the results of the inspection, in August of 2015, Puffy Paws Kitty Haven raised the most funds they ever had, before this time, in one month: $32,007.28.


THE OUTCOME OF ANOTHER FALSE COMPLAINT
AUGUST 2016
An Animal Control Officer showed up at Puffy Paws on August 1st, 2016 and left the a notice to call her.

As soon as Chrissy saw it hanging on the door, she called me, and in turn, I called the kitties lawyer.
Dawn Marie Bates-Buchanan, Esq.

It took until Wednesday morning ( August 3rd, 2016 ) for Animal Control to get back with the kitties lawyer.

"The complaint was that someone drove by and saw kitties in the window, and thought it was a hoarder situation."
WOW !!
This is the best that these evil souls can file to try to get us shut down and have the cats taken away.


They tried to destroy the lives of the poor unwanted kitties that call Puffy Paws home, once again.

Having passed Sarasota County inspection from 2015, hands down, we were informed that Animal control closed the case on August 3rd.

Yet on Monday, August 8th, 2016, our lawyer informed us that Officer Lowe called back and said her supervisor said statute mandates she has eyes on the situation before she closes the report.

They know who we are, they know the kitties are well taken care of, and they just need to come out to the Haven for a quick walk through.

This hateful phone call ended up with nothing for these evil people.

On Monday, August 16th, 2016, Animal Control came out and we passed with flying colors once again.

Our spirits are high after passing another Sarasota County Inspection.

Eat Our Cat Litter Dust, Englewood , as we blaze the trail for the high standards, in what animal rescue should be all the way around in the community.

We challenge the other no-kills in the area to hand over ALL financial records, all vet records, and all major operating expenses to Sarasota County Animal Control, as we have been doing since 2015.

Believe your eyes, not your ears. Just like Animal Control did.

Puffy Paws has nothing to fear. Nothing to hide.
We passed the 2015 and now the 2016 Inspections, hands down with flying colors, activated by false complaints by the haters, naysayers, and evil doers of the Community.

Folks who have been misleading our community for years in their endeavors of animal rescue, have tried to shut Puffy Paws Kitty Haven down. The Bottom Line Is: When Power, Money And Prestige is Involved, There Will Always Be Evil Deeds.

We will be in talks with Sarasota Animal Control to have a volunteer annual inspection of Puffy Paws in 2018.
Mad Kitty Love Goes out to the kitty lovers of the world for standing behind Puffy Paws and keeping the doors open at a day at a time.

Only because of the kitty lovers of the world standing behind us, are we able to take care of the kitties under our care.

You know this, Animal Control knows this, and Animal Control saw what they already know, once again.
Yet, the evil people in our community will never know this and experience the joys of Mad Kitty Love, as we all do.

Thank you for all your support during our battle with the evil forces locally.