WELCOME TO THE KITTIES WEBSITE.
PLEASE SCROLL DOWN TO ENJOY THIS PAGE IN ITS ENTIRETY.
THE KITTIES WEBSITE HAS OVER 30 PAGES OF VITAL INFORMATION ABOUT OUR MISSION.
CLICK THE THREE LINES ABOVE TO BRING DOWN THE DROP DOWN MENU FOR ALL THE PAGES.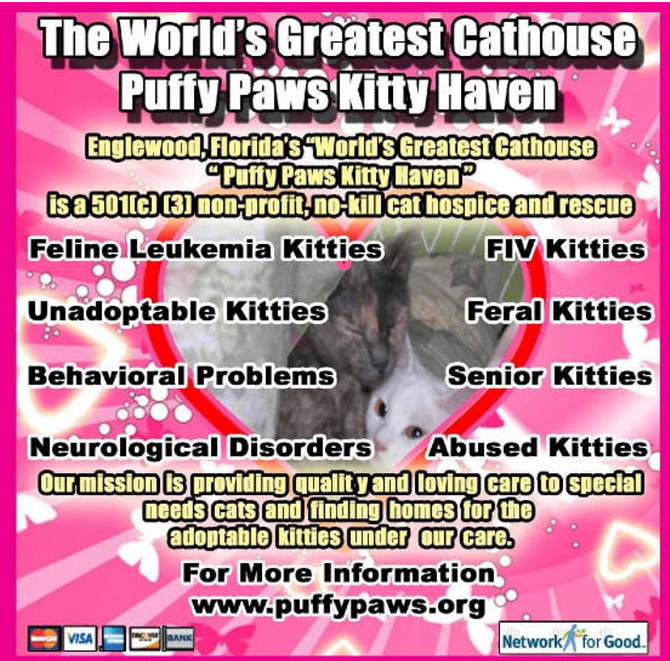 2019 Membership Drive
2019 Membership Drive - Help Puffy Paws Kitty Haven. Become A Member Today
If Everyone Did a Little There Would Be Little Left To Do

Membership Levels - Gold Puffy Paws $100 - Silver Puffy Paws - $50 - Bronze Puffy Paws - $25

Your membership will help with the funds needed to take care of the kitties and guarantee the success of Puffy Paws Kitty Haven at a day at a time.

When you become a member you will get a warm fuzzy knowing you are directly responsible for saving the lives of the special need and unwanted kitties

In these hard economical times, we all know the personal sacrifices each and everyone of you make when you donate to the kitties at Puffy Paws Kitty Haven and for this we will always be eternally grateful.

Please only choose the membership that your heart and budget can afford.

Please Become A Member Today.
With Your 1 x Annual Membership Donation You Will Receive

1) Bragging Rights That You Are A Member of "The World's Greatest Cathouse " - Puffy Paws Kitty Haven
2) A Warm Fuzzy Knowing That You Are Helping Special Need & Unwanted Kitties

Thank You & Mad Kitty Love: Rick & Chrissy & Da Kitties